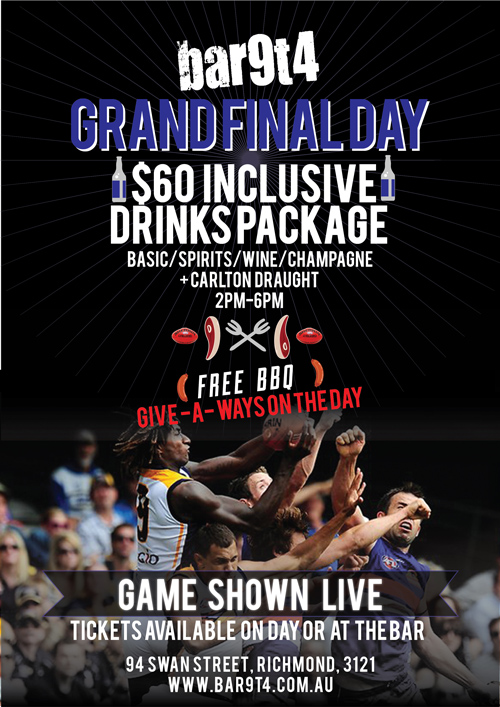 LAST ROUND OF AFL!!
Some big feature games at the MCG, and if you're going to one – or both – make sure you come check us out!
Don't forget our huge Grand Final Day party is now on sale.  We have an all inclusive package, drinks, food and entertainment for during the game, and entry to the best party bar for after the game finishes!  Tickets can be purchased.. right here!
[tickera event = "2"]
FRIDAY
Pies Vs Hawks. With a shot still left in making the AFL finals, Collingwood's VFL team takes on the in-form and unstoppable Hawks. Come by before the game and take advantage of our Richmond Happy Hour (before you get stung $9 for a party pie at the G)
$4 Carlton Draught Pots – $5 wines – $6 Basic Spirits – $6 Mercury Cider
Come in after the game and listen to all the loveable party tracks Bar 9T4 is famous for with Dj "nowihaveearplugsiniplayevenlouder' Cassidy. Stay tuned to this space as we will be giving out a $100 drink card in our give away Friday night footy special
SATURDAY
BLOCKBUSTER game between Carlton and Essendon. Will Mick Malthouse burst a vein in his forehead? Will Essendon make finals (and get caught with peptides and be offered a 5 minute ban from each player?). Either way the Richmond Happy Hour wont change at Bar 9T4 for this game.
So if your going down to the game or are in the area, come down for a cheeky pot or two and check out what we are about. ALL footy colors welcome before and after the games!!