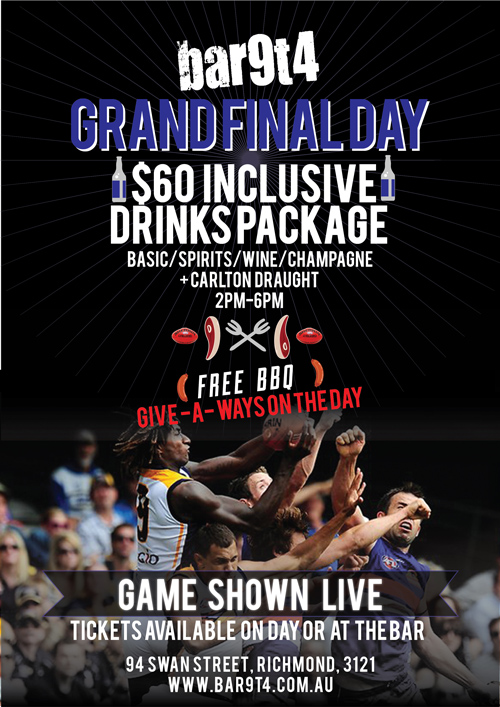 AFL Finals time is finally on us, with the Mighty Richmond Tigers surprising everyone and making the finals for the second year in a row. Looking for something to make this years Grand Final day special?! Make sure you get in quick for Grand Final Day $60 ALL INCLUSIVE DRINKS PACKAGE 2pm-6pm!!  Where does one get tickets?  Right here!
[tickera event = "2"]
FRIDAY
The arch rivals are at it again, in what will be one of the biggest games of the finals series – CATS v HAWKS…… this rivalry runs deep as deep as the male dunny line at half time at the MCG.
For those knocking off work and going straight to the game, tell the wife and kids that you wont be coming home (too busy at Bar 9T4 saving money by buying drinks at our Richmond Happy Hour prices)
$4 Carlton Draught Pots, $5 House Wines, $6 Basics, $6 Mercury Cider
Come after the game as listen to Dj 'gettingonjuice' Cassidy as he will be playing all the 9T4 hits that we all try sing along to.
SATURDAY
ESSENDON VS NORTH
This should be another sell out game, the Dons are up and about and this is the time for north melbourne to shine.  We will be running our very generous happy hour before the game so come down check us out, save a bit of coin before you get stung with a $12 questionable hot dog and 2.50c for the dead horse!!